Chatworth Auction Rooms & Furniture Studios, Inc. has been owned and operated by the same family since 1924. Since 1938, we have been in the same building in Mamaroneck, NY. Our building features a five-level, 20,000 square-foot showroom that is open to the public.
Our strong reputation stems from our old-fashioned commitment to customer satisfaction and service. Our services include buying, selling, estate appraisals, and pick-up and delivery. The building is a full block long, with 12 ft. ceilings and it's packed to the rafters with merchandise, which comes from individual homes throughout the New York area. Many 'set designers' for movies, TV and Broadway shows use Chatsworth as a resource for their props and furnishings during production. Our inventory is always changing, with merchandise coming and going daily.
For anyone who lives in the tri-state area, it's worth the trip to Mamaroneck to come and browse our showrooms - you won't be disappointed. Dining room sets, bedroom sets, secretaries, china cabinets, end tables, grand pianos, spinet pianos, desks, sofas and chairs, fine china, glassware, chandeliers - you name it, we've got it. If you can't get here and enjoy the atmosphere, please check out our Online Store or contact us to find that special piece you're searching for. If you have items for sale, we buy also. Let Chatsworth Auction Rooms & Furniture Studios be your go-to place for beautiful furnishings.
History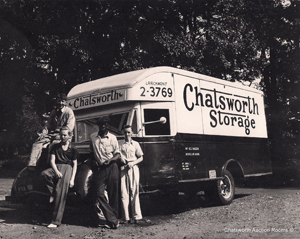 Chatsworth Auction Rooms & Furniture Studios, Inc. was originally started in 1924 by a young man named Sam Lightbody who had recently emigrated from Belfast, Ireland. The original business was "Lightbody's Express," as we did moving, or "expressing" of furniture and goods in and out of New York City. The business soon grew into a moving and storage company, and a small used furniture store. By the late 1930s, "Chatsworth Storage," as it was called, had outgrown the building, and Mr. Lightbody bought a 5-story furniture warehouse on Mamaroneck Avenue in Mamaroneck, N.Y.
During the 1940s, Chatsworth held weekly auctions in our huge location, as well as continuing the moving and storage business. After serving in World War II, Sam Lightbody Jr. returned and joined his father in the family business.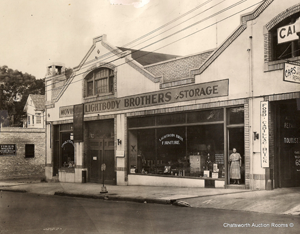 Chatsworth flourished in the ensuing years, as our weekly auctions were a gathering place for Westchester residents through the 1950s. After his father's death in 1956, Sam Jr. continued what had become Chatsworth Auction Rooms & Furniture Studios, Inc. He decided to sell the moving and storage business in 1962, and soon after stopped holding auctions. Through the 1960s, Chatsworth evolved into a furniture emporium, buying and selling the contents of homes, used furniture, estate and antique furniture, and new furniture as well. The huge building became a bargain hunter's paradise, as people would spend hours browsing the aisles, jam packed with merchandise.
Throughout the 70s, 80s and into the 90s, Chatsworth has maintained it's Old World character, and people love to stop in and chat, or just poke around. There is an ever changing variety of interesting merchandise, and you never know what you'll find, as things come in and go out every day.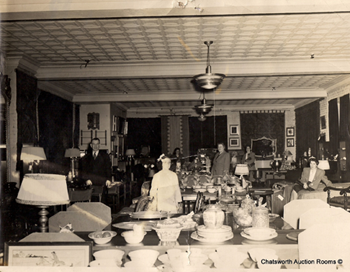 Starting in 1977, Sam Jr. was joined by his son, Sam Lightbody III, and the two worked together at Chatsworth until the elder Sam passed away in 1992. Now guided by the hand of its third generation owner, Chatsworth has continued to serve the public with the honesty, fairness and integrity that is worthy of its rich history. Although the latest Sam has brought in more fine antiques, period pieces and quality estate furnishings, there is an abundance of everyday second hand furniture. The store has an incredible variety, and you're apt to find a Steinway grand piano, as well as pots and pans and china. There are hundreds of bedroom chests, dressers, desks, secretaries, china cabinets, chandeliers, dining room sets and more. It's fair to say that anything that can be found in a home can be found at Chatsworth. Our approach is simple and straightforward, providing the customers with whatever they need, and making sure they are satisfied. We will accept any returns, we provide free delivery in our area, and arrange shipping anywhere. In fact, we are currently a regular source for dealers from many other states and dealers from Europe. Chatsworth has thrived for 75 years by doing business the right way, evolving and serving the community in every way, and with our approach and strong reputation, we're sure to continue.